Based on the principles of the circular economy, CEMEX contributes to mitigating the waste management challenges faced by cities, governments, and communities around the world.
In this regard, our main objective is to maximize the use of waste produced by society and other industries within our plants. During 2021, we managed close to 23 million tons of waste and non-recyclable by-products, which is over 57 times more waste that we sent to landfill.
We are responsible for recovering 95% of the total waste generated for reuse or recycling within our operations. As a result, only 5% went to landfill.
By 2030, our goal is to increase by 50% the amount of waste and by-products we capture as alternative fuels and alternative raw materials.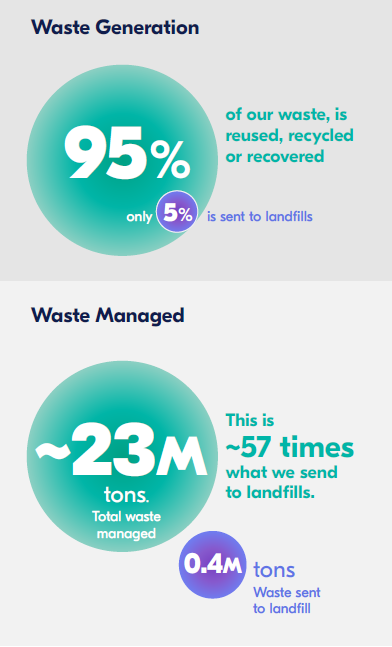 At CEMEX, we have the know-how to responsibly acquire, process, store, and recover energy from waste. Cement kilns are ideal for safely and sustainably disposing of non-recyclable waste, which can be used as an alternative to fossil fuels instead of being incinerated or landfilled.
We are also extracting waste minerals for use as alternative raw materials. This is possible because in the cement production process we replace part of the clinker with by-products from other industries such as fly ash and slag. We also use construction and demolition waste as alternative aggregates.
We aim to maximize the reuse of clinker kiln dust and, when this is not possible, we strive to recover these by-products for use as soil or road stabilizer, fertilizer, or road de-icing agent during the winter.